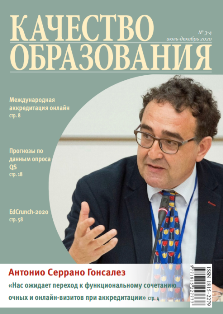 These days we bid farewell to the year 2020, a year that has been so challenging for each one of us, for the education system, for the nation, and for the whole world. This year has changed us through unprecedented challenges, and hopefully it has made us stronger and more resilient.
Global education faced a daunting challenge, though, according to data from many countries, education systems withstood it well: rapid adaptation to the online format, the use of hybrid learning wherever restrictions allowed, enabled the continuity of the educational process and the provision of students with knowledge and support in the most difficult circumstances.
However, it is already clear that a full return to pre-coronavirus era education is unlikely. Today, education theorists and practitioners around the world are trying to predict long-term changes in the educational system and in the field of quality assurance. The speakers interviewed in this issue, Antonio Serrano Gonzalez and Erika Soboleva, address this issue. The Quacquarelli Symonds study, published in "The Globalization of Education," is devoted to the same topic.
More..
In December 2020 AKKORK agency successfully completed a number of quality assurance projects as part of professional and public and international accreditation procedures of educational programs in higher education institutions of the Russian Federation and neighboring countries.
This has been a special year, with changes in all areas of life, and education has been one of the areas most affected by the pandemic. The switch to an online format has been a forced measure, both for the educational process and for quality assurance procedures. This year all visits to HEIs AKKORK conducted online. The evaluation procedure, well-established by many years of experience, enabled, thanks to thorough preliminary preparation and a developed organization mechanism, to conduct a comprehensive evaluation of higher education institutions both at the program and institutional levels in an online format.
More..